Undocumented Stories: The Narratives of the Immigrant Rights Movement Exhibit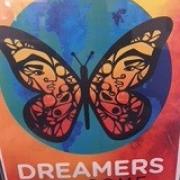 By Judith Samuel, Los Angeles Trade Technical College
In January 2017, the Dream Resource Center (DRC) at UCLA launched the multi-media exhibit, Undocumented Stories. Undocumented Stories utilizes storytelling to uplift the lived experiences of the unaccompanied minors and undocumented youth who built a movement to change policies impacting higher education, immigration reform, accesses to health care, and deportation proceedings. This exhibit intends to empower immigrant communities, reconstruct narratives, shape public opinion, and influence policy.
Tuesday, April 10 – May, 17, 2018
Los Angeles Trade-Technical College Library (Mariposa Hall)
Undocumented Stories: The Narratives of the Immigrant Rights Movement" the current exhibit at LATTC's Library was made possile by the following:
• UCLA's Dream Resource Center
• Michelle Segura, Student Support Services Representative, Dream Resource Center Coordinator, and Bridges to Sucess Center | Dream Resource Center and the Dream resource Center Team
• RISE Club members • Jennifer P. Galvez, M.A., Dolores Huerta Labor Institute
• Mindy M. Chen, PhD, MSEd, Director, Dolores Huerta Labor Institute
• Ana Munoz, Counselor and RSISE Club faculty advisor
A related informative and engaging event was held on March 28th. The event speakers were Armando Ibanez, film major and director of the web series, "Undocumented Tales" and Ernesto Rocha, organizer, storyteller transformational coah, TEDx Speaker, and advocate for social, racial, and economic justice.