Study Furniture Brightens Laney Library
By Evelyn Lord, Laney College
Over the summer, returning students discovered new study space options at Laney Library. With the purchase of new study furniture, the library was able to reconfigure space to better manage the needs of individuals and groups. In addition to creating a more pleasant study environment, librarians wanted to respond to some of the complaints that had come up in recent student surveys: not enough charging outlets, uncomfortable chairs, too noisy.
Prior to the install, the library had just four study rooms available for group study. The rest of the library was supposed to be quiet. Students still needed to work together and talk and they would congregate on the 4th floor where the tables and furniture layout suggested that the area was a space for conversation. Noise would drift up to the 3rd floor from the atrium below. The library needed more space where students could work together, while making sure that a quiet study space was also available.
With the new furniture in place, the library now has a dedicated quiet area on the 4th floor with two different types of carrels. There is plenty of space for collaborative study on the 3rd floor. Charging outlets are maximized. Cushioned seating options are available for both quiet and collaborative study. Finally, students can choose a space that suits their individual study needs.
The Worden furniture replaces carrels that were original to the 1970 building. Ross McDonald, a local vendor specializing in library furniture, provided the installation.
3rd Floor – For Individual and Group Study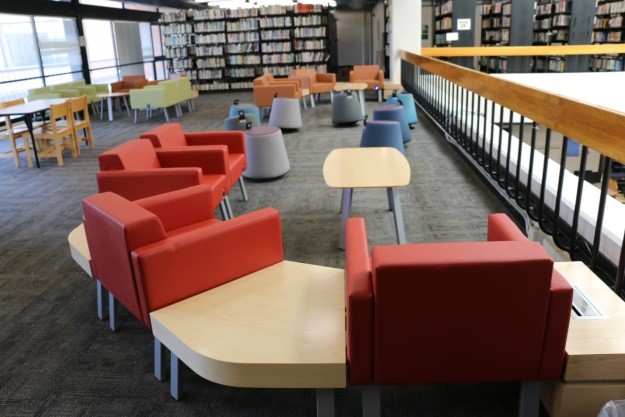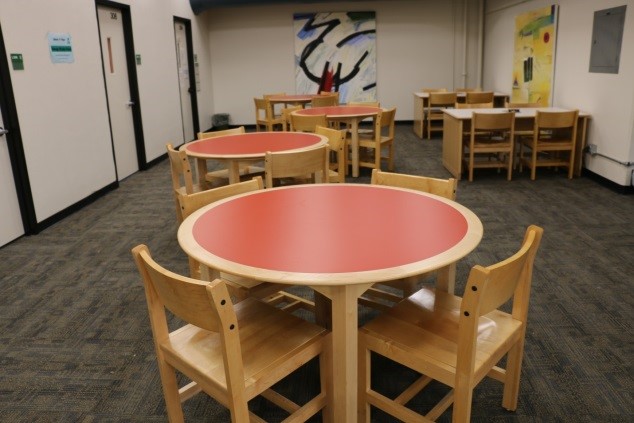 4th Floor – For Quiet Study