Pivoting Library Services in a Pandemic: Merced College Library Steps Up to the Challenge
By Lindsay Davis and Joey Merritt, Merced College
When the Merced College Library faculty and staff suddenly began working remotely on March 21, 2020 due to the COVID-19 pandemic, we realized we needed to create a more robust online presence to continue providing services and resources to the campus community. We have made several changes, outlined below, to help us with this endeavor. In the process, we have also increased some of our offerings.
Library Website
In 2016, the Merced College website received a major update, and while the library homepage was also updated and had good bones, some information gaps remained. After a website analysis of a variety of library websites from California community colleges, we opted to redesign the site. Specifically, we added new tabs on the left to highlight answers to some frequently asked questions for both students and faculty, added our Anti-Racism and Equity guide, listed citation guides separately from the course research guides, and added contact information to the right. While we will continue to make updates, the website has improved dramatically.
Student Hub in Canvas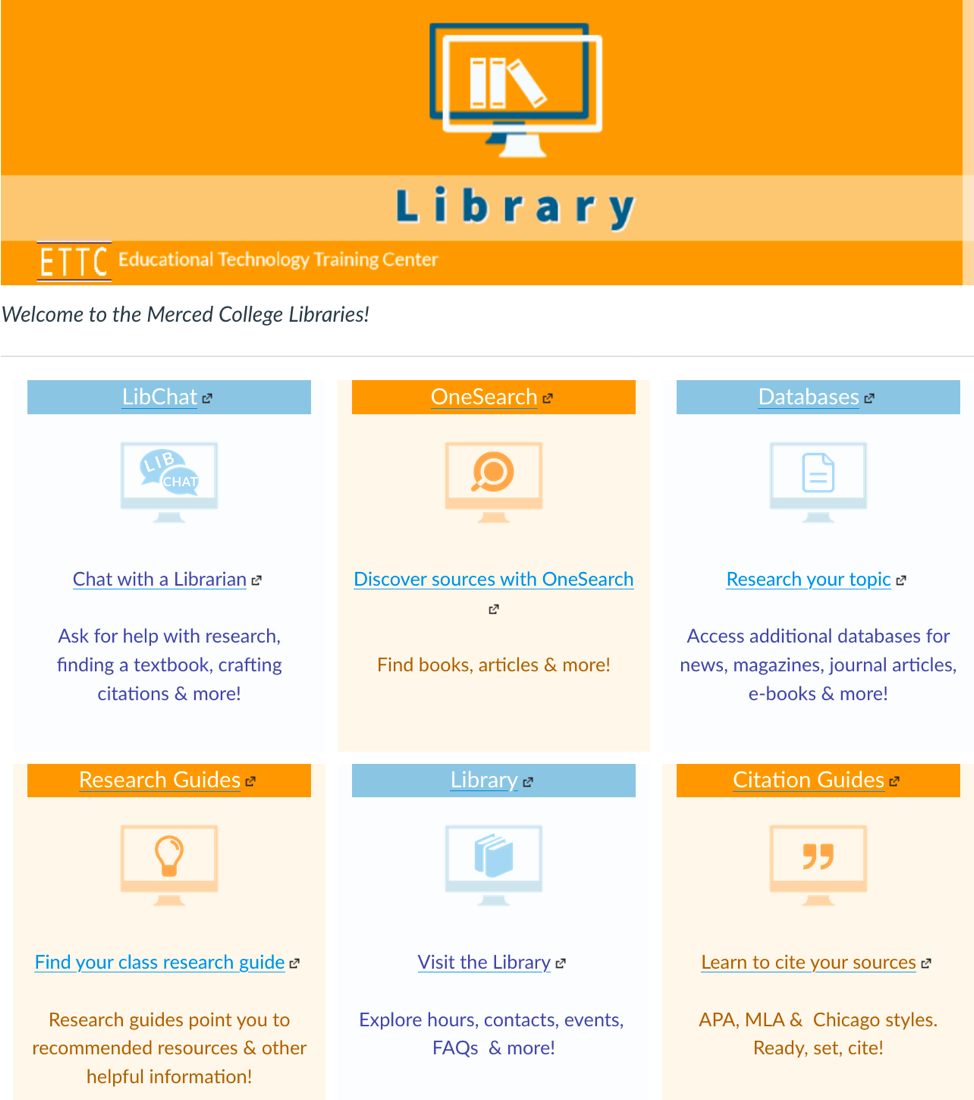 Karissa Morehouse, Dean of the Library, Distance Education, and Incarcerated Education, initiated a project to develop a "course" in Canvas that points students to academic and student support services. Every student now has this Student Hub in their Canvas account. The library was invited to create its space using a template provided by the campus' Educational Technology Training Center. While the library website is available in the Canvas course navigation, the Student Hub provides another avenue for students to access the library.
Subscriptions
After making some decisions related to the print budget and electronic subscriptions, we were able to expand our Springshare subscription to include LibWizard and the full version of LibInsight, expand our Films on Demand package to include more foreign films, and subscribe to JSTOR Essential. JSTOR went live this November, and there have been lots of excitement in the History, Philosophy, and English Departments. Our Language faculty is excited about our foreign film additions.
Instructor Reserves, Curbside Pick-Up, & Reference Materials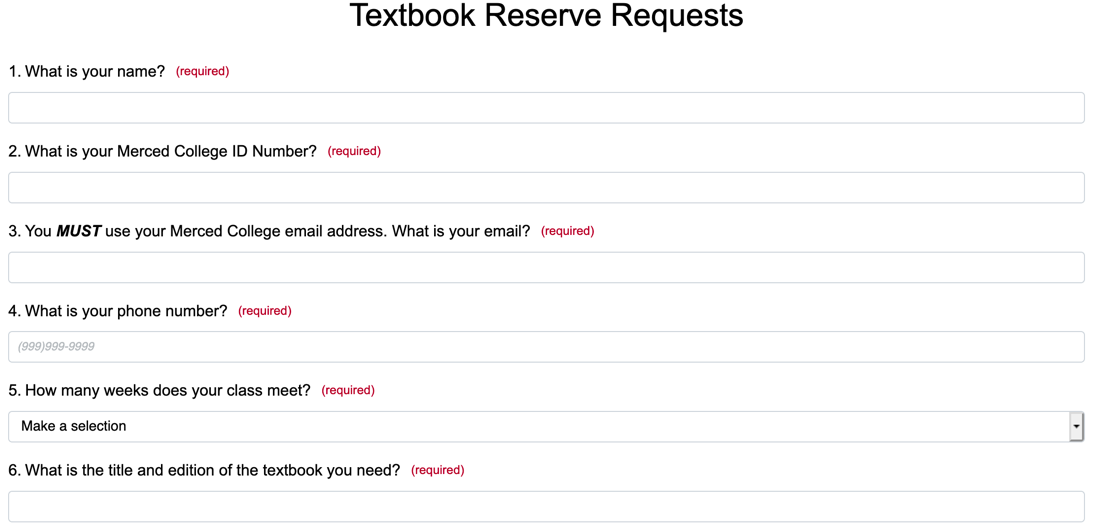 We have continued to provide access to Instructor Reserves. One of our classified circulation staff members volunteered to come to the building every day to scan chapters of textbooks as students request them. The amount of material students can request, however, is limited in order to adhere to copyright law. To submit requests, students submit a LibWizard form, and material is emailed to students using a unique link that expires. We have received a substantial number of requests (942 as of early December).
We are also offering contactless "curbside pick-up" for circulating materials. Students, staff, faculty, and administrators can place books, DVDs, and CDs on hold through OneSearch and then pick them up in the library lobby during specific hours. Classified staff members work on rotation to monitor and process holds. While this service has been less utilized than we had hoped, we realize that we need to better advertise this service and our print collection in the spring.
On occasion, students have also needed access to print reference books. One of our faculty librarians has volunteered to come into the building to scan reference material to send to students as needed. We primarily offer this option to students while we are actively assisting them with research.
We could not offer access to these print materials without library staff and faculty who have volunteered to come into the building.
LibWizard Forms
In addition to creating a LibWizard form to receive textbook reserve requests, we also created quite a few other forms. While the library has always encouraged faculty to recommend titles for purchase, there wasn't an easy path to make those recommendations. The new purchase recommendation form can now be included in messages to our liaison areas and new faculty members. Our previous interlibrary loan forms were a bit clunky to fill out as they were fillable PDFs that students and faculty had to email as attachments to the library. The new book request and periodical request forms are much easier to fill out. Prior to campus closure, we also didn't have an online form for faculty to make instruction requests, so we created simple forms for both our Merced and Los Baños campuses (request forms feed to our reference email account and are also calendared in this account). When we return to campus, we will need to revise the form to account for both online and in-person classes. All the forms are available on the library website. Using LibWizard forms has enabled us to create clearer communication channels and keep track of data in one place.
LibWizard Tutorials & Canvas
Lindsay Davis, Instruction Lead, began making online instructional modules in December 2019, but in March we needed to pivot much more quickly as all instruction needed to be moved to an asynchronous modality. Using instructional design principles, she developed three modules in Canvas in the late spring and developed several more in the summer. However, it quickly became apparent that utilizing Canvas Commons for faculty to import instructional modules was not sustainable. She recognized that we wouldn't be able to track usage very well in this format and that we couldn't ensure that faculty would have the most updated materials going forward. In October, Lindsay removed the library's modules from the Canvas Commons and began converting materials into LibWizard tutorials. The tutorials are used as assignments in Canvas modules, so we are still utilizing Canvas but can more easily track usage and make edits to materials via LibWizard. Some materials are still being converted, but most of them are available on our research instruction services guide. On the guide, each tutorial includes a time estimate, outcomes, and suggestions for usage. Lindsay has also created other online materials in Canvas for classes and will be adding some of these as samples to the guide.
Workshops
Using LibCal, we also added an events calendar to the library website and began offering Zoom workshops to students, faculty, staff and administration. Some of the topics we've covered include OER and copyright, research instruction services, citation, plagiarism, and using JSTOR. In the spring, we plan to have more robust offerings.
LibGuides
Joey Merritt, Faculty Lead and OER / Copyright Lead, spent her sabbatical this past summer redesigning our LibGuides and guides homepage. We moved from the confusion of multiple guides per course to a single guide per discipline. There were 68 guides for English alone, and these had already been edited down the previous fall! When necessary, links to smaller guides for specific classes can be added to the bottom of the discipline guides, allowing students to more easily find their specific guide than in our previous guide structure. This project also allowed us to standardize our guides, so students know what to expect when they move between different guides.
Joey also added new guide groups, including "How do I?...for Students" and "How do I?...for Faculty," which created locations for guides that didn't have homes before. Some of the new guides in these groups include Copyright for Merced College, Open Educational Resources, and How to find Books, E-Books, and Textbooks.
Feedback about the changes has been very positive. We are also continuing to make changes to adhere to our new guide format.
The Merced College Library faculty and staff have worked hard during the COVID-19 campus closure to provide existing library services, as well as find new ways to increase services to the campus community. While the library will remain closed for regular services in Spring 2021, we will continue to build on the work we have done to assist our students, staff, faculty, and administrators with their research, learning, and teaching needs.