College of San Mateo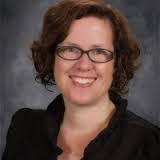 Stephanie M. Roach, Digital Resources Librarian, Received Award to Internationalize Curriculum
Stephanie has been awarded a fellowship for 2015-16 to participate in the Education Partnership for Internationalizing Curriculum (EPIC) program at Stanford University.  This competitive fellowship, funded by the Department of Education Title VI program, brings together five faculty members from Foothill College and four from the College of San Mateo to collaborate with colleagues at Stanford for one academic year.   The nine faculty Fellows will work on various projects aimed at internationalizing course curricula and producing innovative materials designed for community college classrooms.
Professor Roach submitted an application for a fellowship to design a course in which learners will be challenged to recognize local and global issues that complicate discovery, use, and creation of information, including economic, social, legal, and ethical aspects. Additionally, learners will examine their own information privilege, and investigate their own creation and use of information. Professor Roach will be collaborating with James T. Hamilton, Director, Stanford Journalism Program and Hearst Professor of Communication.
"I'm really looking forward to the EPIC fellowship. The opportunity to partner with Dr. Hamilton, whose explorations of decision making, the information lives of low-income individuals, and the impact of algorithms on search queries will greatly enhance the project, and enrich the course materials I develop for students at College of San Mateo," said Professor Roach.
More information on this and other Global Studies community engagement activities is available at https://sgs.stanford.edu/programs-centers/community-engagement.