Flying Start Week
By Camila Jenkin, El Camino College
Flying Start Week is just what the name suggests- a way to get the semester off to a flying start by discovering library resources from day one. We emphasize this one point above everything else in our marketing- come to this event and set yourself up for academic success right from the start. We realized that while El Camino runs great orientations in the weeks before the semester starts, and then runs an amazing Student Support Expo during week three, we didn't actually do much during week one. So, the Library decided to step in and take care of week one programming!
In Spring 2019, the El Camino College Schauerman Library hosted its first "Library Open House", a one-day event which was structured around a self-guided tour of six Library locations with the promise of lunch if students completed the entire tour. This passport style event is popular at El Camino College, and students understand the structure and are motivated to participate. The event ran three times, up until the campus closed due to Covid-19. Here's what our first flyer looked like: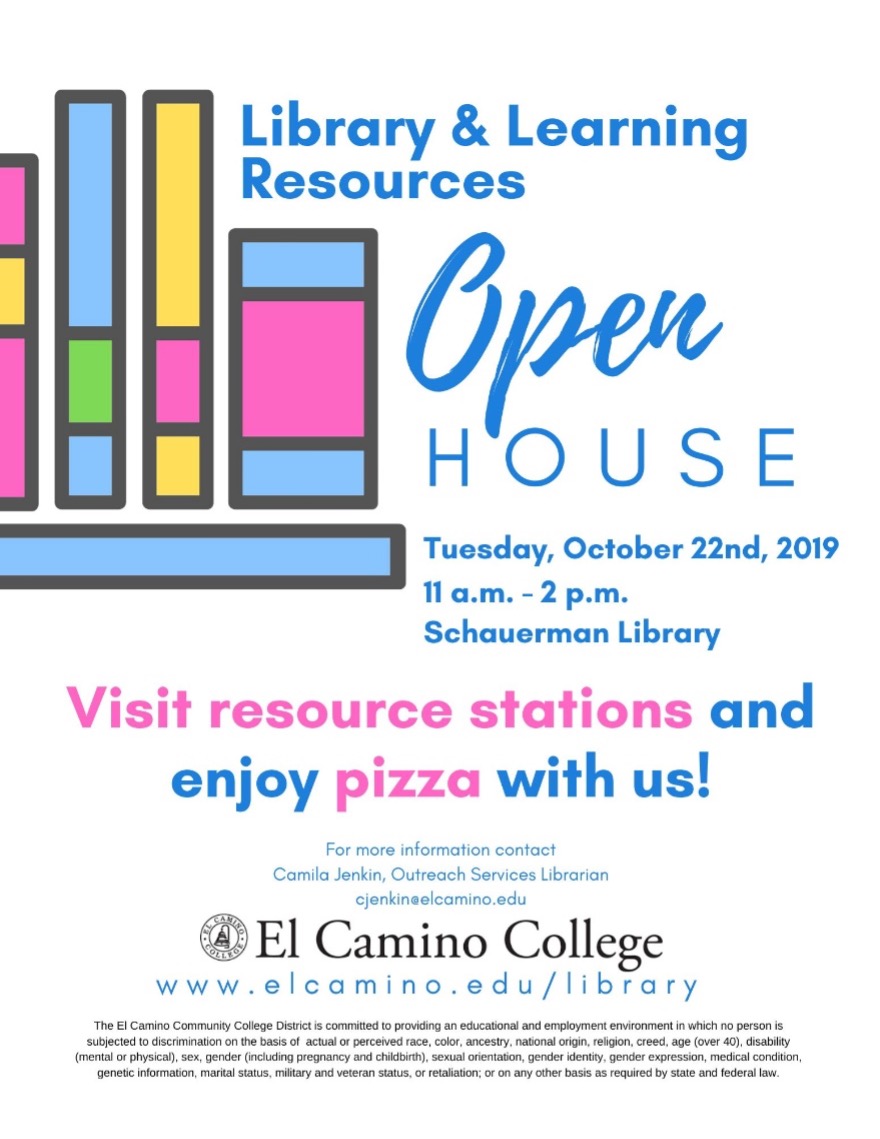 Upon returning to campus after lockdown, we reimagined the event as "Flying Start Week", with two days of high-energy tours followed by fun, low-key events on two other days.
This new format was a hit, but we still had low numbers due to pandemic issues: lower enrollment and less willingness to participate in crowded events. We averaged about 175 students per day on the tours (pre-pandemic we averaged 250). We were also still understaffed, and it was hard to run six tour stops with limited staff. We realized that running tours on Mondays wasn't working, so we scrapped the Monday/Tuesday tours in favor of a new format.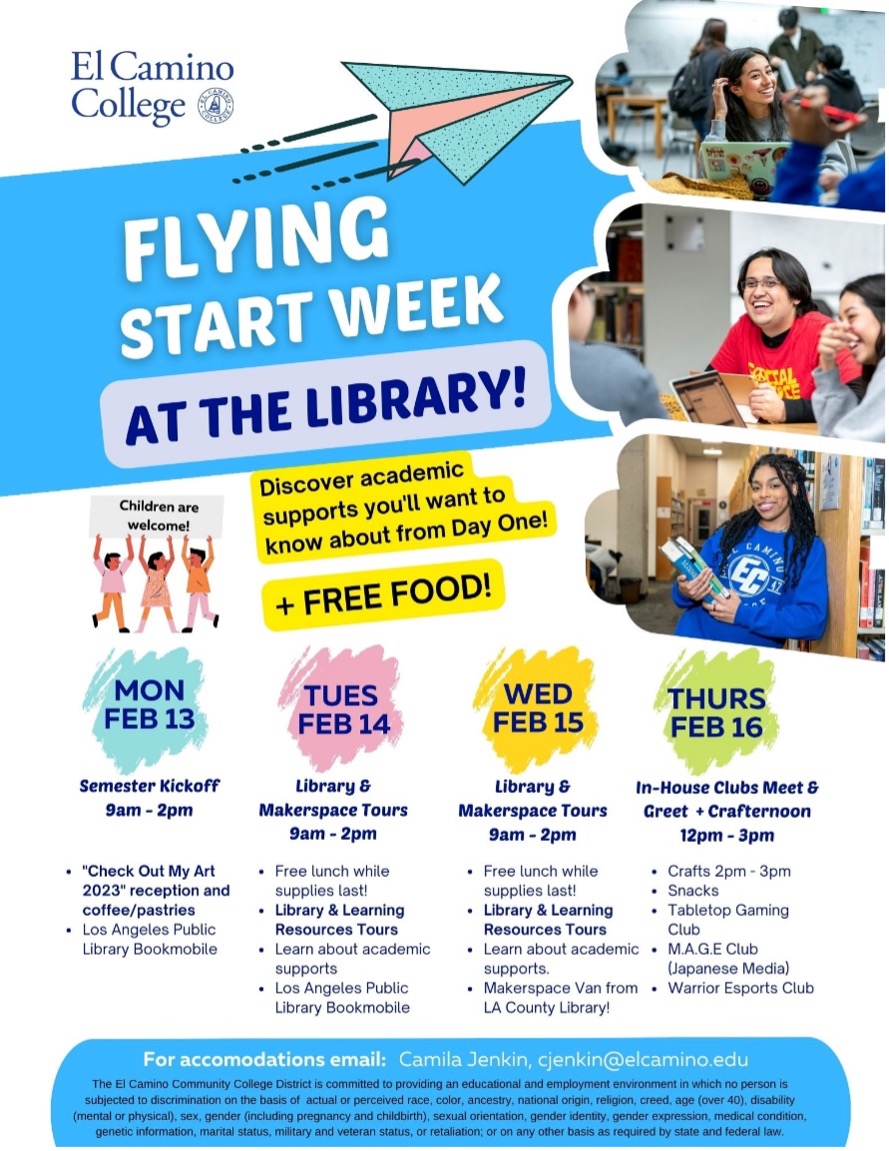 We changed our format to the one we currently use: Monday/Thursday low-key events, Tuesday/Wednesday high energy tours. We decided to serve a limited amount of coffee and pastries on Monday, both welcoming the semester and celebrating our new lobby art exhibit and rounded off the week by hosting a Crafternoon session on Thursday. The buffer days made the Tuesday/Wednesday tours so much easier and gave us one extra day to advertise the event.
We just finished our third iteration of Flying Start Week and had 600 students total attend the tours over two days, with another 52 attending Thursday's Crafternoon session. Students overwhelmingly say they're glad to get the knowledge early, and that they would never walk the space on their own without the event to guide them.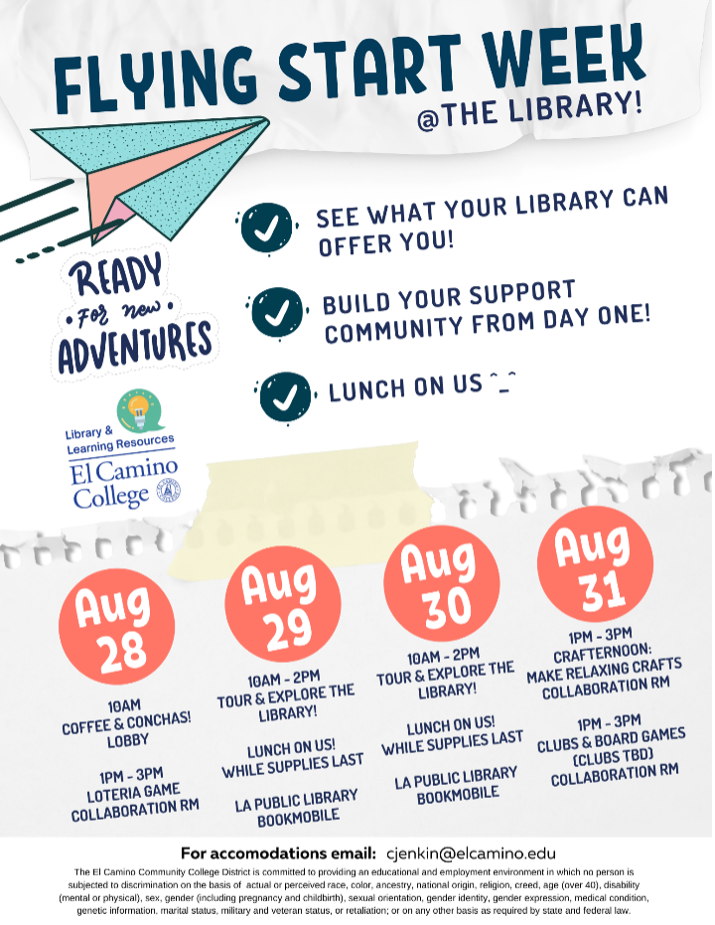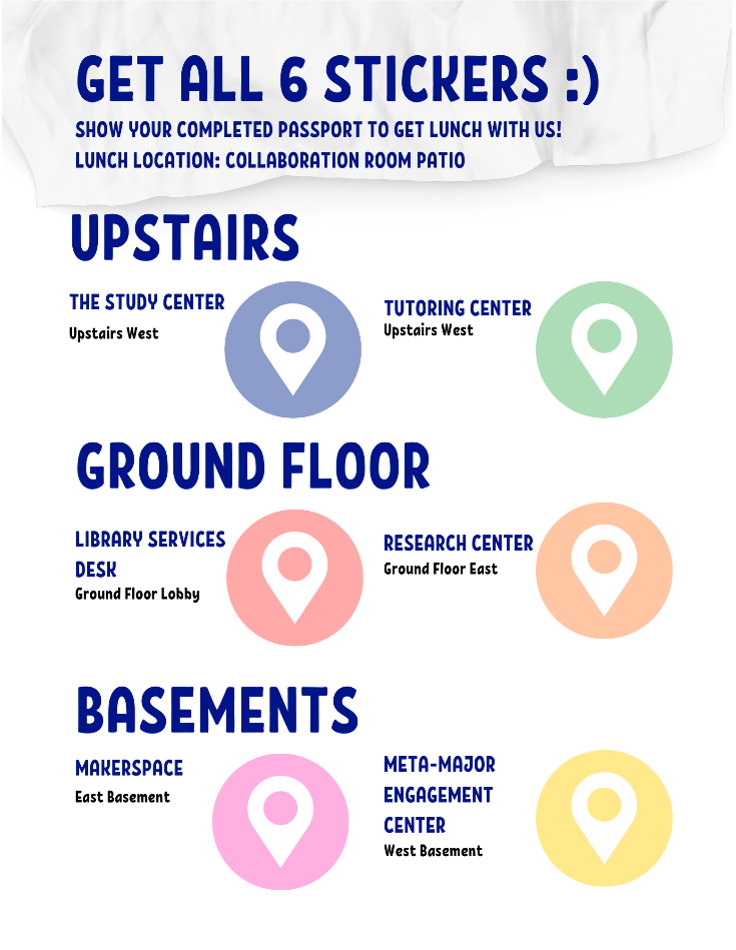 This is our current format:
Monday: Coffee & Conchas to welcome the semester 8am – till they're gone
Tuesday: Tours & Lunch 10am – 2pm
Wednesday: Tours & Lunch 10am – 2pm
Thursday: Crafternoon 1pm – 3pm: Make a slime
Our building is very confusing and labyrinthine, a product of having been built over decades, so our goal is to get students comfortable in our space early on. We're excited to see how Flying Start Week will grow in the future, and we're doing everything possible to help students have an exciting and nurturing week one!