San Francisco / East Bay Region Meeting Notes
CCL Regional Meeting Notes
San Francisco / East Bay Region
Friday, Sept. 22, 2017, 10:00 am – 2:00 pm
City College of San Francisco, Rosenberg Library
ATTENDANCE:
Evelyn Lord (Laney), Tina Inzerilla (Las Positas), Vivian Kobayashi (CCSF), Michelle McKenzie (CCSF), Wendy Owens (CCSF), Chad Stephenson (CCSF), Nghiem Thai (Merritt), Lisa Velarde (CCSF), Anthony Costa (CCSF), Yi Liang (CCSF)
Discussion (10:00—12:00)
1. CCL Updates
· Statewide Database Renewal
The CCC Technology Center posted its intent to award the statewide database contract to EBSCO. More details will be available in the coming weeks.
· Library Services Platform RFP
Last week the Board of Governors approved the release of funding for the statewide library services platform. Tim Calhoon of the CCC Tech Center will call the first meeting of the committee which will hire a consultant to help draft the RFP. Amy Carbonaro will be the Project Manager. The RFP development process will proceed over the coming months and will involve opportunities for input from CCC libraries.
· Engaging with the ACRL Framework (Nov. 3 @ DVC)
Reminder to register. Space is filling up fast.
· CCL Outlook
Send news about your library directly to the new CCL Communications Manager Brian Greene (greeneb@yosemite.edu).
· Other
New CCL website expected to go live this fall.
2. Future SF/East Bay Meeting : Library Host?
Merritt College will host the fall 2018 CCL SF/East Bay Region Meeting.
3. Group Photo for CCL Outlook Newsletter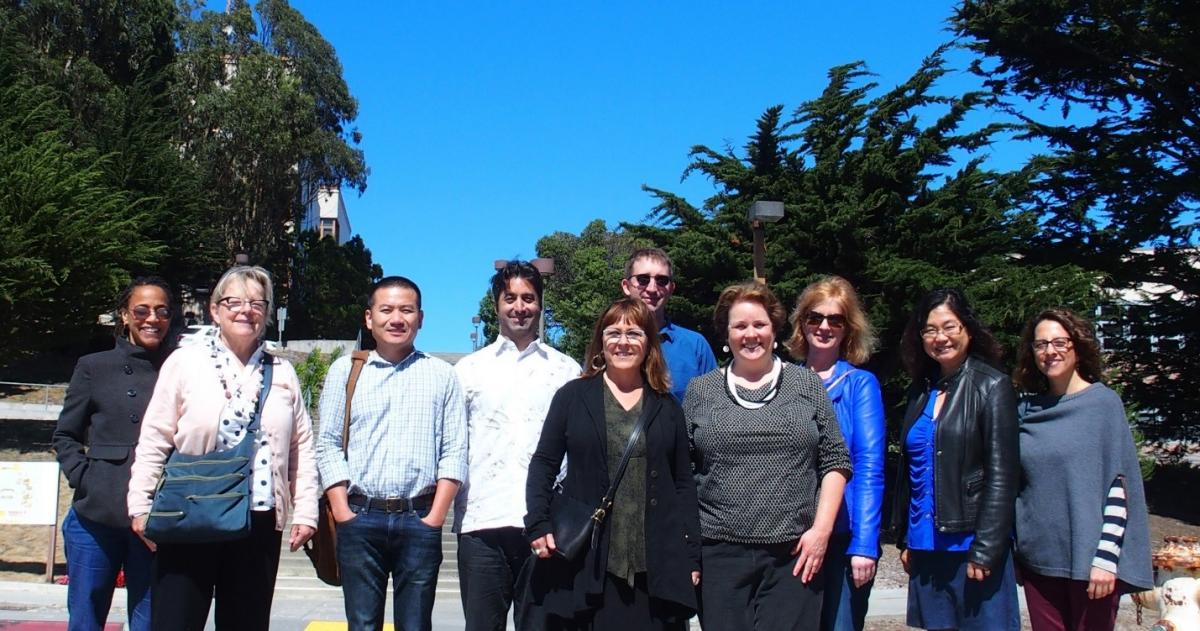 4. Other
Special thank you to CCSF Dean Donna Reed and Department Chair Anthony Costa for making arrangements for today's meeting at the Rosenberg Library and lunch at the Pierre Coste Dining Room.
5. Round-the-table
Materials Funding
Generally there seems to be substantially less funding for library textbooks this year, perhaps as a result of fewer restrictions on categorical funds such as Student Equity, etc. this year.
Las Positas is requesting $300,000 annually funds for library materials as part of the recent capital bond that was recently passed by their district.
CCSF has been able to secure generous funding from the campus lottery allocation. CCSF also has a 3-year Equity allocation totaling $700,000.
Laney, Merritt and Las Positas all reported receiving little or no allocation for library materials so far this year.
Libraries and Guided Pathways
Teams of at least 10 people from each college will be attending the training in October. Librarians from the colleges in attendance reported on efforts to make sure that a librarian is included as part of the initial team.
Staff News
CCSF has nine new part-time librarians, with an additional four starting next month. There has been a 70% increase in credit enrollment. Merritt, Laney and Las Positas all reported that they are fully-staffed. Las Positas has requested a Student Equity Librarian. Merritt is using student equity funds to pay for additional staffing support in the library.
Other
There was substantial discussion about OER and the role of librarians. Librarians have been very active in OER from the start. With OER and Canvas (OEI) initiatives, there will be growing interest and an opportunity for librarians to lead. There was discussion about the possibility of a regional workshop on the role of libraries and OER. If not a North/South workshop, could this be a possible joint venture between SF/East Bay Region and Northwest Region? Suggestion to invite Cable Green, Creative Commons.
6. Lunch
Delicious gourmet fare produced by CCSF students at Pierre Coste Dining Room.
7. Library Tour
The day ended with a tour of the library by Anthony Costa. The library is looking at using some of its space in new ways, including updating the Media Center. The college received a maker-space grant and one of three maker-space hubs will be within the Media Center.