Wherefore the Library? Applying Vaccine Mandates in California Community College Libraries
By Terezita Reyes Overduin, Chaffey College
Following the FDA approval of the COVID-19 vaccines, many institutions, organizations, government entities, and workplaces of various kinds have instituted vaccine mandates. The country is still grappling with various legal challenges and other uncertainty impacting the endurance of these mandates, but in the current moment, many of our institutions are moving forward with implementation of mandates on our campuses.
But where does the library stand? Research has shown that the work of librarians is often not fully understood or appreciated by our fellow faculty, administration, or the broader institution.1 Library faculty and staff have to grapple with decisions that administrators have made without fully understanding the repercussions for their libraries. Vaccine mandates provide an example of how this dynamic can play out.
On August 16, 2021 the Chaffey College Governing Board passed a vaccine mandate resolution requiring all students and employees be fully vaccinated by October 15, 2021. This semester, the library and many other campus buildings remained closed. To enforce this mandate in the classroom in the upcoming semester, the college will require students registered for in-person classes to upload proof of vaccination in order to enroll. However, as the library prepares to re-open in Spring 2021, administrators are only now considering what a vaccine mandate would look like in the library. After many meetings and conversations with administrators, faculty, and union negotiators, librarians at Chaffey persist in asking the college to enforce this mandate in the library.
In these discussions, we were asked to provide examples of how California community college libraries are dealing with vaccine mandates at their institutions. To that end, a survey was distributed to our librarian listserv asking:
Is your library currently open for in-person services? (Study space, computer use, reference questions)
Does your campus have a vaccine mandate?
Is the mandate enforced for library visitors?
Is your library open to non-student visitors (i.e., the public)?
How does your campus check the vaccine status or screen for COVID symptoms of on-campus students, if at all? Does this also apply to visitors?
Responding librarians were very helpful, and we are extremely grateful to all who provided information on the topic.
The survey received 44 responses. After controlling for duplicate entries, we received responses from 39 institutions. Two of those responses did not specify their college.
Responses to "Is your library currently open for in-person services?" (Figure 1) show that 38 responding campus libraries are currently open, and one is not.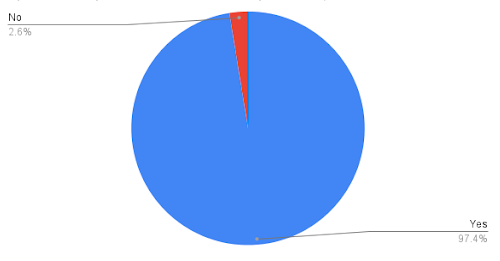 Responses to "Does your campus have a vaccine mandate?" (Figure 2) show that 33 responding campuses have a vaccine mandate, and six do not.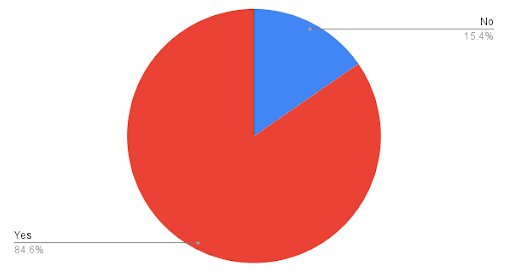 Responses to "Is the mandate enforced for library visitors?" (Figure 3) show that 19 responding campus libraries require library visitors to be vaccinated, nine do not require visitors to be vaccinated, five campus libraries are still figuring out how or if the mandate will be enforced, and six are not under a mandate.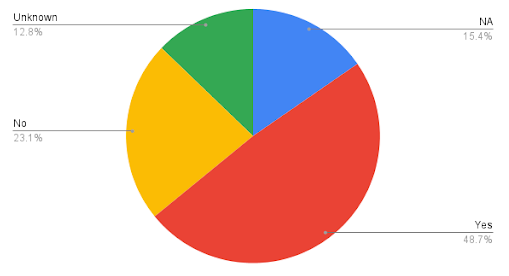 Responses to "Is your library open to non-student visitors (i.e., the public)?" (Figure 4) show that 25 responding campus libraries are open to non-student visitors, and 15 are not.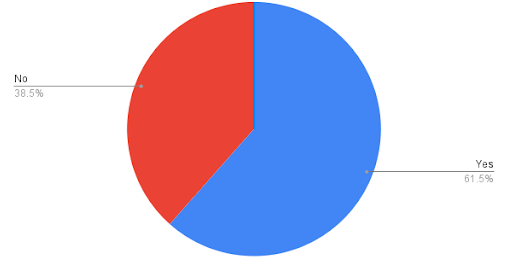 Analysis of the open-ended responses reveals various approaches to the issue. Responses range from no check-in or restrictions on library visitors at all to admitting only students or vaccinated members of the public with strict enforcement. Some require that patrons be vaccinated, while others may permit entry to patrons who pass a health screening. Many libraries use an app or campus check-in kiosk to verify status before a visitor can enter campus buildings. Some libraries staff their entrances with student workers or other personnel to check visitor status before entering the library building, while others use an "honors system" approach with no tangible enforcement.
This variety in approaches seems to mirror the variety in views on the pandemic and vaccines themselves. Some regions, communities, governing boards, or administrators feel protected by vaccine mandates and embrace them, while others may feel ambivalent or restricted by vaccine mandates.
Whatever the case, administrators and institutions at large must realize that the library is an important part of any college campus and deserving of the same treatment and protections that the rest of the campus community receives. It is important to note that nine of the 33 responding campuses (27%) with a vaccine mandate, do not enforce the mandate in the library. If an institution chooses to implement a vaccine mandate, then enforcement must happen equally for all college services. A vaccine mandate that was created for the entire college community but is only enforced for some is, by definition, a discriminatory practice.
In fairness, it is possible that the institution did not realize the complexities of implementing a vaccine mandate for the entire campus. In Chaffey College's September 2021 presidential newsletter, it states, "All students taking in-person classes and using in-person services are required to be fully vaccinated against COVID-19 by October 15 under a mandate passed by the Governing Board." This statement implies that the intent was to ensure that all in-person students on campus are vaccinated. However, now that we are investigating what that would mean as we re-open the library, the college is equivocating on that commitment.
We have heard several reasons why the institution is hesitant to restrict access to the library. We have heard the argument that the library is a public space and a community service, and therefore should be open to all community members. While this is a commonly held belief about libraries, only public libraries are expressly and primarily created to serve the public at large. Academic libraries are created primarily for the use of the students, faculty, and staff of an academic institution.2 While many academic libraries offer access to community members in the form of circulation privileges, access to physical resources, and computer usage, there are examples of institutions that are limiting or suspending this access in the current pandemic climate. New York University and UC San Francisco are two examples of large public universities that are currently open only for students, staff, and faculty.
Vaccine mandates have become one of the "hot topics" we librarians so often use to teach our students research skills. There are many perspectives on their effectiveness and implementation in various circumstances. The purpose of this investigation is not to determine whether or not vaccine mandates should be used in the academic library or on campuses in general. The issue at hand is how an institution views its library and the students, staff, and faculty who spend so much of their time there. Libraries and our students are deserving of the same treatment and protection as the rest of the institution's faculty, staff, and administrators.
References
1. Fagan, Jody Condit, Hillary Ostermiller, Elizabeth Price, and Lara Sapp. "Librarian, Faculty, and Student Perceptions of Academic Librarians: Study Introduction and Literature Review." New Review of Academic Librarianship 27, no. 1 (January 2, 2021): 38-75.↩
2. Bates, Marcia J., and Mary Niles Maack. Encyclopedia of Library and Information Sciences, Third Edition. Boca Raton: CRC, 2015.↩