Addressing the Whole Student
By Sally Ellis, Riverside City College
In 2017, Riverside City College (RCC) Library conducted a poll, asking students to rank 15 library improvements they would like to see implemented. The options included adding board games, water bottle refill stations, a full-sized skeleton, and food vending machines. The top ranked improvement was the addition of nap pods. In cooperation with facilities and the cafeteria, and as budgets and small donations allowed, we have implemented each of these wishes.
As many CCL librarians, deans, and directors are aware, our students have long struggled with juggling work, family, school obligations and, more recently, increasing housing insecurities. We hoped to mitigate some of those stressors by creating a quiet, softly lit area where students could lie back and recoup some energy. We also wanted to meet the needs of our praying students, as they have been spotted in the stacks in the past, looking for privacy.
Unfortunately, sleeping pods were prohibitively expensive. Instead, we opted for leather recliners. An under-utilized 270 sq.ft. alcove was sectioned off with a portable room divider and outfitted with seven recliners. Donations of a wave-sound machine, vaporizing mister and oils, a prayer rug, and salt lamp for warm lighting, completed the space. Other supplies donated or repurposed included colored pencils with coloring pages, origami paper, fidget poppers, plants, and stuffed animals. After a second poll of users, we added blankets and throw pillows, both of which are used daily. Still to be installed is a donated tv with DVD player, which will play silent nature videos. A third poll determined the name of the room, The Serenity Lounge.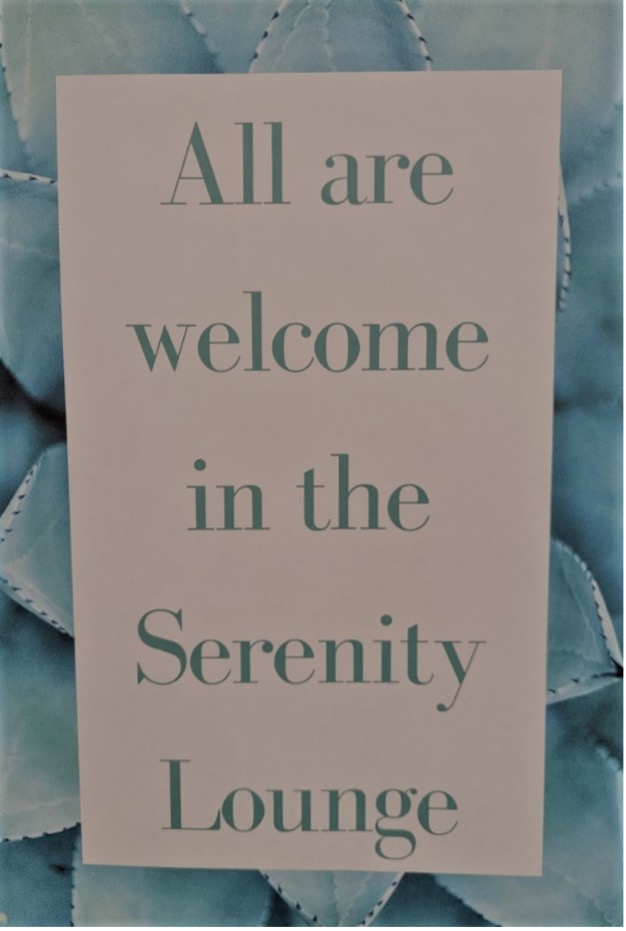 We had no official "opening," and have not announced or marketed the space formally. We have, however, mentioned it in personal conversations with contacts on campus, specifically in speaking with faculty that work with our Guardian Scholars and in our RCC Buy Nothing Group, where we have asked for needed items. We've found that word of mouth is a powerful thing when comfortable seating is involved and have overheard campus chatter recommending the space.
This project was spearheaded by Shannon Hammock, our Technical Services Librarian, who is always on the lookout for ways to improve our space in both form and functionality. We consider this project to be a resounding success as the chairs are in constant use by sleeping students, and we have placed an order for four more. Our students have expressed their appreciation of the space through messages on origami paper, the whiteboard, and by tucking the stuffed animals in for a nap, all bringing satisfaction and a little laughter to our days.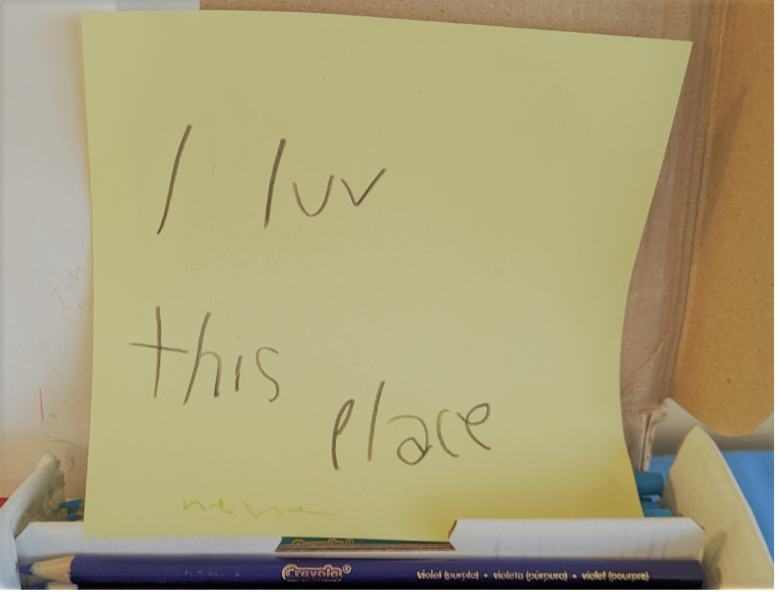 Knowing that the path to successful completion at a Community College requires acknowledging and addressing the whole student, we at the Riverside Community College Library are happy to support their academic, as well as their physical and psychological needs.