Use of Cell Phone Charging Lockers in CA Community Colleges
By Adina Lerner, Glendale Community College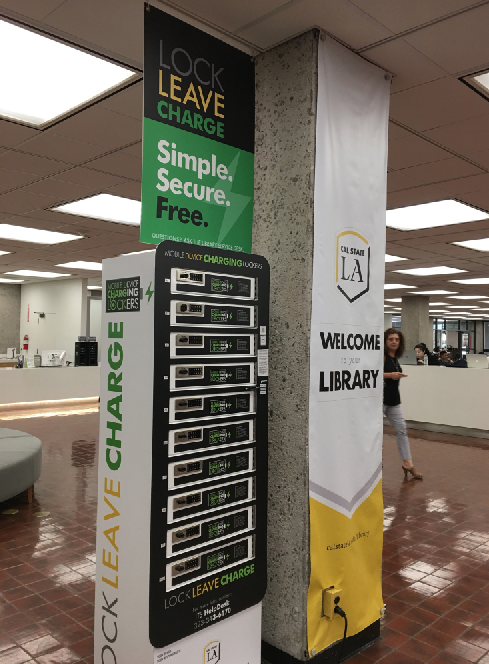 I had already seen this at Pasadena City College. I wanted to know if other Community Colleges had them. I put a call out in October through the cclibrarian's listserv.
In October, Glendale Community College Library staff took a field trip to Cal State LA to learn about their Alma/Primo installation. On our way out, we were given a tour of the library and were struck by the really cool cell phone charging lockers. They told us they were very popular.

I received responses from PCC, Santiago Canyon College and Riverside City College.

Pasadena has one Kwikboost charging locker with stand. The report no big issues, rather small ones. Students often forget their "code" to unlock their phones. These codes are set by the student each time they use the locker. Staff has a master key to unlock in these situations, in addition to an override code. Another annoyance is students forgetting to put their phones into silent mode, so a ringing phone issue is addressed by using the override code to go into the locker and turn the ringer down. At the beginning of Fall term they did need replace a couple of the charging cords due to wear-and-tear. The cords are supplied by Kwikboost under the service plan and the labor is done in house. They received their funding from the library's Trust & Agency fund.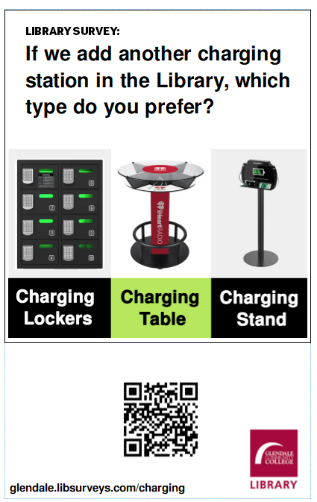 Riverside uses goCharge. They note that this is a very expensive option, despite this, it one proved so popular they purchased another unit. They now have a total of three, the third purchased by their foster youth program for its engagement center. They report issues with phones ringing in the lockers. They have a key kept at the circulation desk to turn down the ringers. It is a "huge hit" on library and campus tours.

One issue, Riverside writes, is that after two or three years is the battery powering the keypads needs to be monitored. When the battery dies, the locker doesn't lock. The students are not aware they have left their devise unlocked and walk away. They now periodically make sure the lockers lock, if not, they replace the battery.

Santiago Canyon has both a charging station and a phone locker. The Fall Term saw popularity of the phone locker soar. They have some of the same issues as PCC, students forgetting the code or forgetting which locker bay they used.
I appreciated the responses. I took the information to the GCC library staff and was given the OK to survey the students. We already have a very popular charging stand. Instead of just purchasing another stand, we decided to present some options to our patrons. During the survey period, we learned that our Learning Commons received an Associated Students grant for two charging stands, in addition, a student received a grant for the library to purchase charging cords to check out to students. This makes sense as our recent remodel included what seems like a hundred new USB and outlets in both the tables and some chairs. There are issues with checking out cords, but that is a different issue.

This past week, I tallied up the results of our survey (10/29 – 11/13). We received 235 replies and they overwhelmingly want another charging stand. We expect to put forward a request for an Associated Students grant next term and include the results represent our patron preference.