Saddleback College

Between January 2010 and July 2012, the LRC/Library building went through a comprehensive renovation. Before moving to temporary a temporary facility, the librarians weeded the print collections and discarded over 50,000 items.

And while the library was in portable buildings, we integrated most of the reference and audiovisual materials into the circulating collection. We also upgraded the security system with RFID technology. The Library occupies only the third floor of the renovated building and the smaller collection has plenty of shelf space to grow. We have more group study rooms (students can write on the walls!), a dedicated open-access computer lab, and more study space than in the past. Students love the "new" building.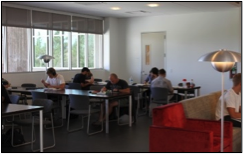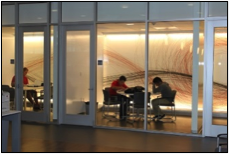 The Library's virtual space was also "renovated." In June 2014, we went live with OCLC's cloud-based ILS and discovery tool, WorldShare Management Services (WMS).
This August, Carolyn Seaman became the new Instruction Librarian. She comes to Saddleback from UC Irvine Libraries where she worked in Reference and Education & Outreach. Carolyn brings her experience of teaching and instructional design to the Library. She will be supporting and developing the library's non-credit and credit instruction program with a focus on expanding online workshops.