ScienceDirect College Edition
Elsevier's academic platform
Overall Score
(Weighted Total)
Content — 40%
(Quality, uniqueness, reliability, and appropriateness for community college audience)
Interface — 25%
(Usability, customization, mobile supported, lack of problems, print/download/email content, citation formatting)
Cost — 15%
(Value and terms of use)
Accessibility — 15%
(Compliance with standards)
Support — 5%
(For administrators and users)
ScienceDirect is Elsevier's platform for ebooks and peer-reviewed journals in the areas of physical sciences and engineering, life sciences, health sciences, and social sciences and humanities. It contains indexing, abstracts, and tables of contents for over 2,500 journals and over 35,000 ebooks. The College Edition provides full-text access to select journal titles on the ScienceDirect platform.
Method
Reviewers examined the vendor's product website, information provided by the vendor, user generated reviews and information, in addition to testing the interface by performing various searches and testing out features of the product.
Review
Introduction
Elsevier's ScienceDirect College Edition was designed to be an affordable option for scientific journals for two and four year colleges. It includes three different journal collections: the Health and Life Sciences Collection, the Physical Sciences Collection, and the Social and Behavioural Sciences Collection. The collections can be subscribed to individually or as a group. The Heath and Sciences collection is the largest of the three and contains approximately 1,200 journal titles, including The Lancet (no embargo) and Biological Psychiatry. The Physical Sciences collection contains approximately 900 journal titles and the Social and Behavioural Sciences collection has a little over 500 journal titles. While there is some overlap among the three collections, it isn't large.
Interface
The ScienceDirect homepage provides a few basic search fields (keyword, author name, Journal/Book title, volume, issue and pages) and the ability to browse for content by subject area. The advanced search offers just a few more search fields. Boolean operators, phrase search and parentheses can be used in both search types. Filtering and narrowing of results is possible after the initial search.
Initial search results will contain your subscribed content, open-access content, and content you do not have access to unless you pay extra. The top listed filter allows you to limit to subscribed journals, which eliminates the unsubscribed content and (unfortunately) much of the open-access content.
Users can also filter by publication date, publication title, subject area, and most importantly, article type. Elsevier does a nice job of breaking down their resource types into categories such as research articles, review articles, case reports, discussions, editorials, etc.
Search results screen with filters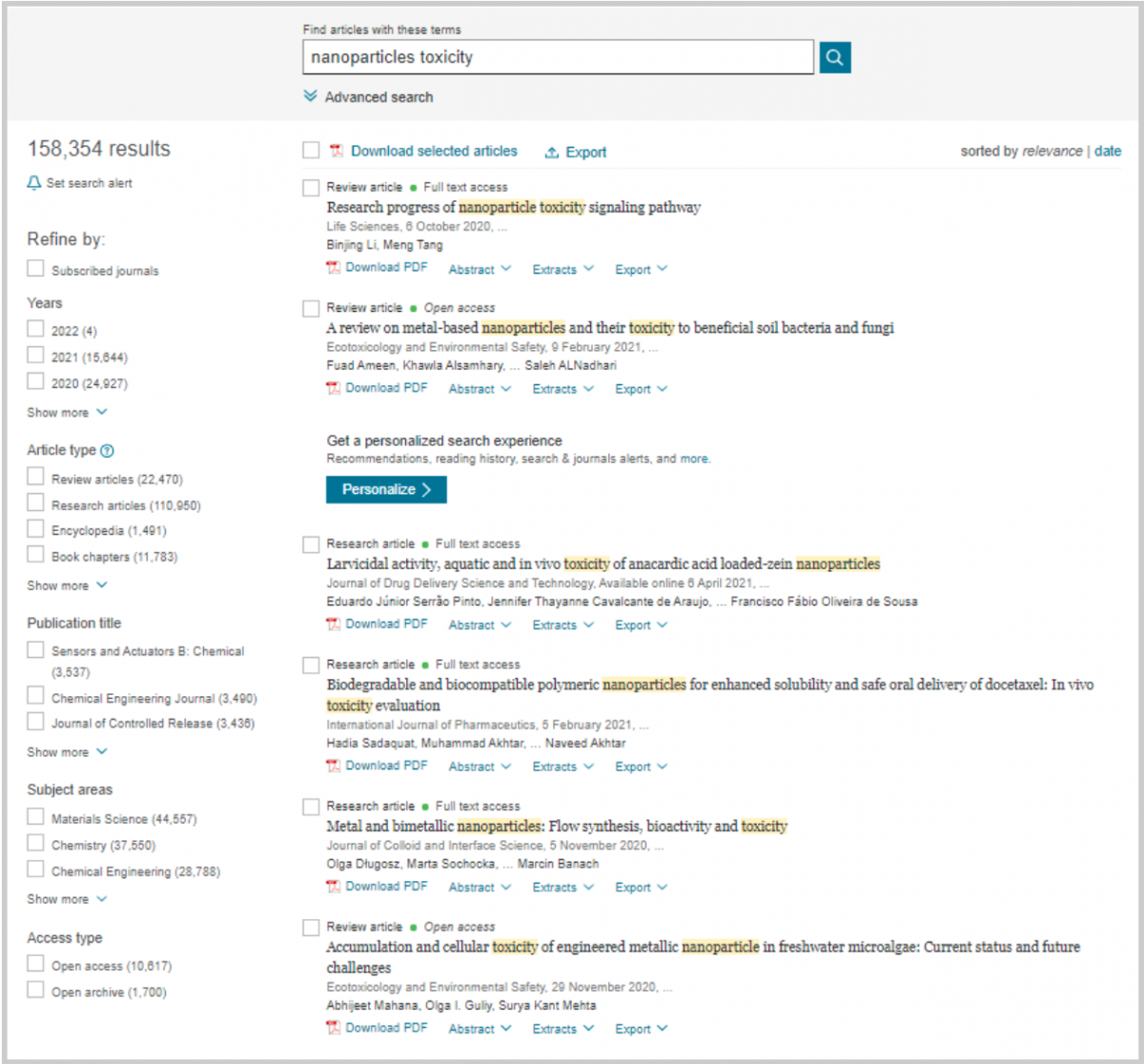 One thing to note, that along with published articles, Elsevier will display articles in-press, which include journal pre-proofs, uncorrected proofs, corrected proofs, and withdrawn articles in-press. There doesn't seem to be a way to exclude or filter articles in-press from the search results.
All subscribed and open access articles are available in PDF and HTML. Users can print the HTML directly from the screen or download the article PDF, but there is no email option. The share option allows the user to share a link to the article via email or various social media outlets. The cite option does not create a citation, but allows the user to save to Refworks, or export as a RIS or text file. Database citation generators and the ability to email articles are services most students have come to expect in a database and it is unfortunate that neither of these tools are available in ScienceDirect.
On the full-text article page, Elsevier provides some extras. Recommended articles (articles that other users have read after reading the selected article) appear on the right-hand side of the screen. Data is imported and displayed from the Scopus database, and shows the number of times and where the article has been cited over the past year. Plum Analytics also provides article metrics such as usage, captures, mentions, social media and citations. One thing to remember is that all of these "extras" come at the cost of individual privacy (see privacy concerns section below).
View of the extras that accompany articles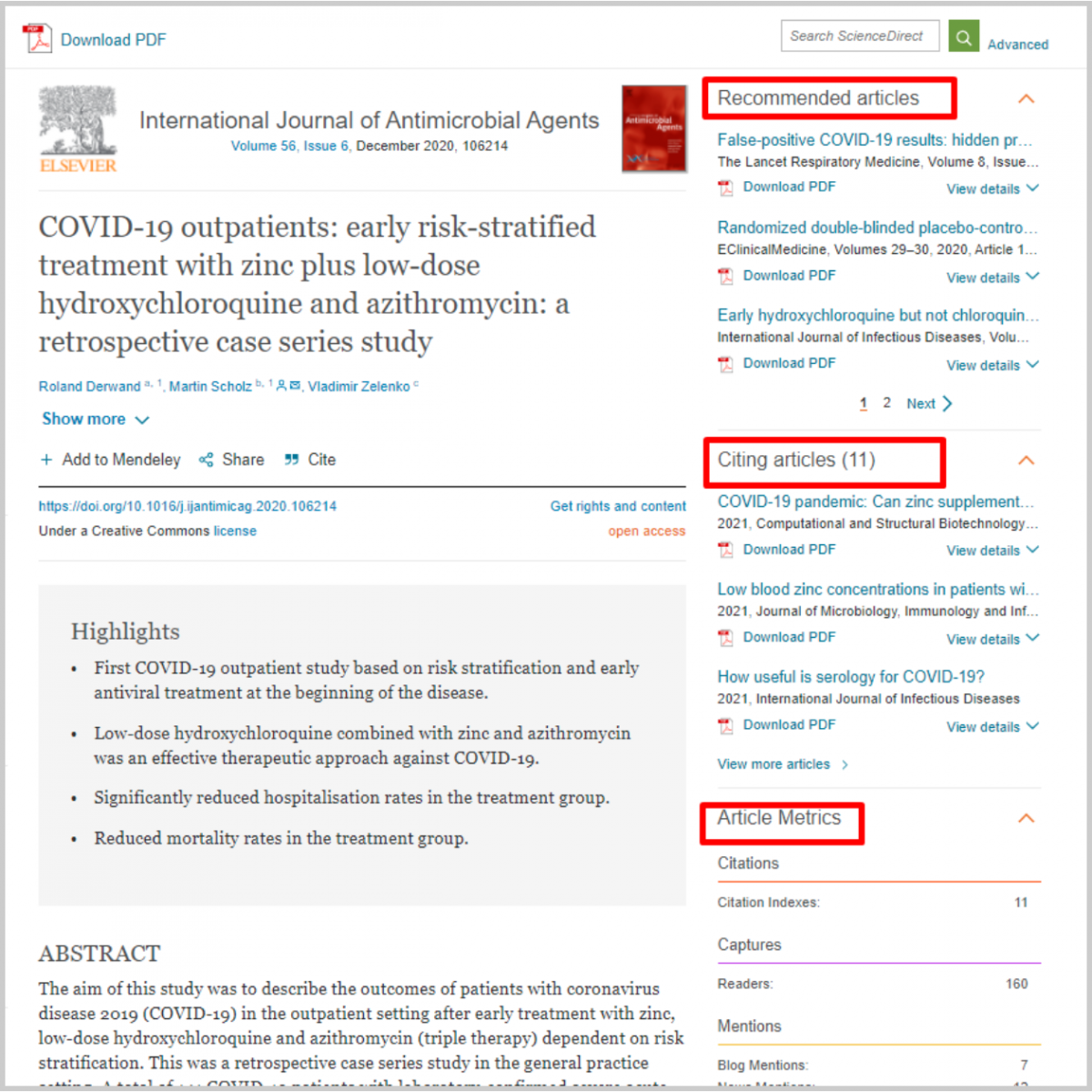 There is no need to create an account unless the user wants to take advantage of saved search alerts or would like to receive weekly personalized emails from Elsevier containing article recommendations.
Mobile Friendly
Initialization and Administration
Set-up is fairly simple. Authentication is available through a proxy server or federated access. The Admin tool provides usage statistics (COUNTER5) plus some supplementary reports. Administrators can also set up link resolvers, modify users and accounts, edit IP ranges, and customize their branding.
Accessibility
The ScienceDirect website asserts that ScienceDirect "aspires to meet all guidelines established by the World Wide Web Consortium's" WCAG 2.1 and Section 508 criteria. The Science Direct VPAT can be found here.
A 2017 review of ScienceDirect by the Big Ten Academic Alliance revealed some accessibility challenges like wayfinding issues using a screen reader and labels not being programmatically aligned to assistive technologies. Elesevier addressed some of these issues in their response to the Big Ten Alliance Elsevier Response which included adding missing headings and improving screen reader wayfinding. The Tennessee Board of Regents website indicates a conformance date of 12/31/2020, but notes that they are waiting for a response from the vendor.
Our own testing of ScienceDirect using the WAVE plugin did not reveal any significant errors on the main search page. Some errors were found in pdf documents including missing alt text on image buttons and broken same page links. An analysis with axe revealed no errors on the main search page, but errors like missing labels were found in some of the articles and pdfs.
LSP Interoperability
The three ScienceDirect collections are available as electronic collections in Primo and integrate well. Using ScienceDirect through Primo might actually be preferable over the Science Direct platform, as users are not being presented with content that hasn't been purchased.
Privacy
Elsevier does not approach data collection and management from a privacy-centered standpoint, but from a corporate standpoint. In their privacy policy, Elsevier states, "We collect information about you in three ways: directly from your input, from third-party sources, and through automated technologies." Third-party sources include social networks and data suppliers. Automated technologies include cookies and "other technologies", which are not defined.
Personal information is retained by Elsevier for as long as necessary. Elsevier states they take precautions to safeguard your personal information but how that is done isn't spelled out.
Support
ScienceDirect has a robust support center website with contact information, FAQs and training videos. Technical support is available Monday through Friday via phone, email or chat. Response time for this reviewer has always been quick.
Cost
The three College Edition collections are offered at a flat rate for community colleges. This makes the collections quite affordable for larger colleges, but less so for smaller colleges. The unique peer-reviewed content still makes the collections a worthwhile purchase, especially for the large Health and Sciences collection.
Competition
ScienceDirect has unique content that isn't offered in other databases, which makes it difficult to list any direct competition. It is possible to purchase similar journal packages from other publishers such as Sage, Wiley, Springer Nature and Taylor & Francis. Selectors should consult with their vendor representatives to determine whether they may obtain sufficiently similar content through journal packages.
Recommended Improvements
The ability to email articles and the inclusion of a citation generator would make the database easier for students to use. Elsevier should provide the option, at least for the advanced search, to limit the search to subscribed and open access content only. Currently, it is only available as a filter on the search results screen.
ConclusionRecommended improvements aside, Elsevier's ScienceDirect College Edition contains a lot of useful content. An overlap analysis report run through Alma comparing each of the three collections against EBSCO's Academic Search Complete showed very little overlap. Colleges interested in beefing up their academic journal holdings in the sciences would do well to consider the three collections, especially the Health and Sciences collection.
If you have any experience with this product, please leave a comment and rate its appropriateness for use in a community college environment.
---
† The offers and trials information are password protected. Actual prices are confidential between the vendor and the consortium.
For access contact Amy Beadle, Library Consortium Director, 916.800.2175.