Visible Body
Visible Body is a suite of subscription-based databases ("apps") providing platforms for detailed examinations of anatomical structures and systems through interactive online 3D models, visualizations and animations, and reference overviews.
What is it?
Visible Body is a suite of digital collections and tools, including traditional-style Courseware (a teaching and learning platform), and individual web-based platforms (which the company refers to as "apps") that provide the means for a close examination of human anatomical structures and systems through interactive online 3D models, visualizations and animations, and reference overviews. The collections support health science programs and courses (anatomy, physiology, nursing, radiology, physical therapy, personal training, etc.), but also have potential use for courses in the visual arts (drawing, sculpture, 3D art), along with campus tutoring programs supporting these different programs.
Visible Body's curated content collection of 24,000+ visual and text "assets" is developed by an in-house team of medical illustrators and biomedical visualization experts, and reviewed by outside panels of experts, including professors and medical professionals, before inclusion into the final product.
Content can be accessed via a web browser, or mobile apps for iPad, iPhone, and Android devices. Many of the apps also integrate with the most popular LMS systems and Courseware.
For the purposes of this quick look, the focus will be on the company's individual apps offered within the suite, which are available for annual "site-license" subscriptions as a package or as standalone products, rather than on the fuller Courseware product. The latter, along with the standalone apps, are also available for students to individually purchase as they would with traditional course materials. The apps being reviewed here include: Anatomy & Physiology, Human Anatomy Atlas, and Muscle Premium.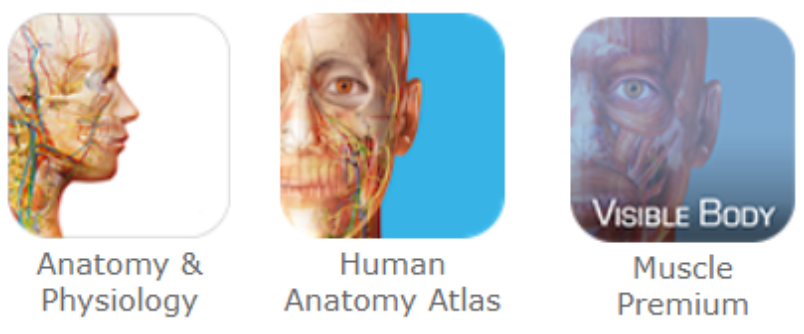 Human Anatomy Atlas
Considered the company's "flagship app," Human Anatomy Atlas is a comprehensive 3D atlas of the human body.  It includes more than 6,000 structures from all body systems: nervous, skeletal, circulatory, muscular, digestive, urinary, lymphatic, endocrine, and reproductive. All the models, including both male and female body types, are 3D with the ability to move the models to rotate, zoom, dissect, and add anatomical features. Once a structure is selected, students can access encyclopedic definitions, common pathologies, pronunciations, MRI images and cadaver images. Students can also take quizzes to test their knowledge, create and save body tours, and more. A unique feature with Atlas 2020 is the integrated Augmented Reality options (available with iPhone/iPad).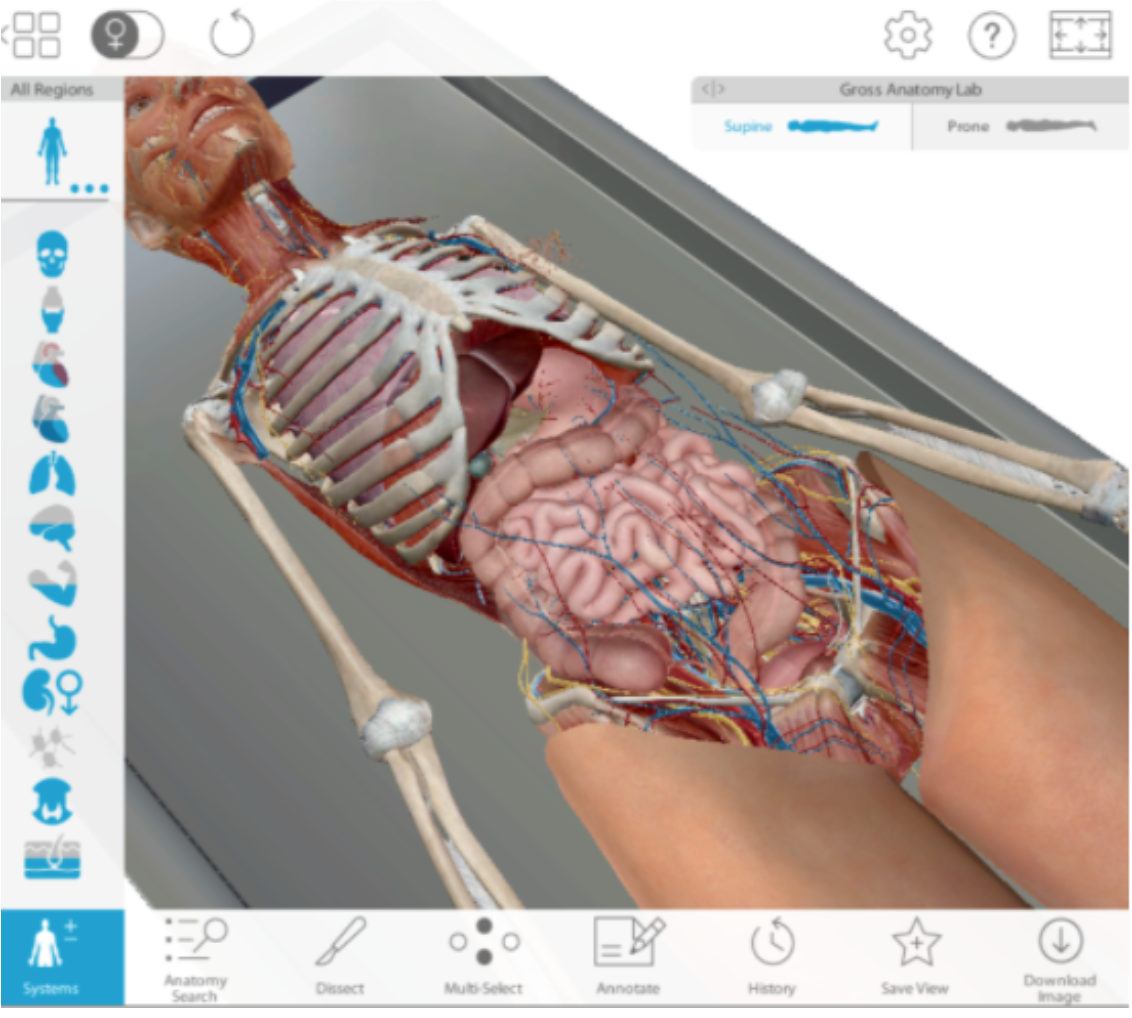 Anatomy & Physiology
This app provides a step-by-step introduction to the complete human body system by system.  It is structured similarly to a traditional undergraduate-level textbook, and the company's Courseware product, with commonalities in content, organization (i.e. chapters/modules), reviews and ungraded quizzes. It contains units for each body system consisting of unit checklists to identify learning objectives for each body system, informational videos, animations, and interactive 3D models of key structures. Students can take notes, control accessibility options (e.g. captioning), select languages and download images.

Muscle Premium
The Muscle Premium app provides a comprehensive reference of musculoskeletal structures and functions, plus common injuries and conditions. 3D models concentrate specifically on the muscles of the body and include animated demonstrations of the movements muscles perform individually and in groups. Additionally, it includes modules on the biomechanics of joints such as the hip and knee, and joint pathologies.  The views are organized by the various regions of the body. The user can "layer on/off" more body structures on top of the selected muscles for a more complete view. It includes definitions, pronunciations and pathologies. The user can create "insertion points" where the muscles of the body attach. It also includes a growing collection of practitioner videos with deeper explanations.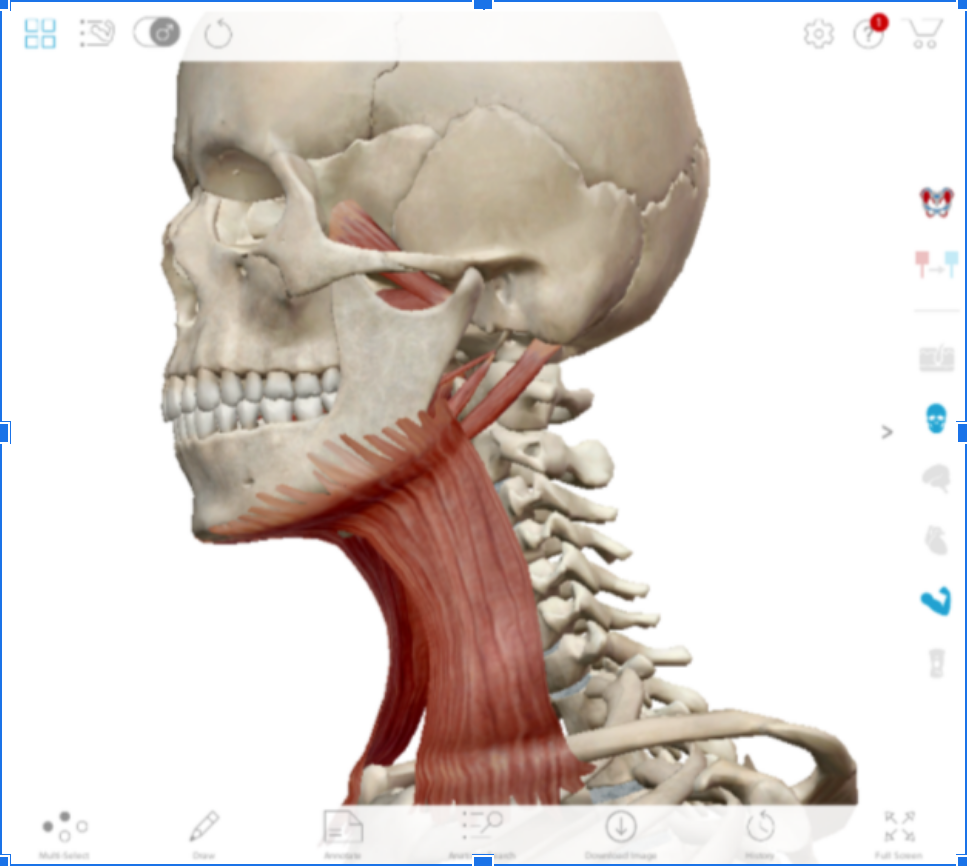 Physiology Animations
Also included in the suite, but less popular than the other three, this app provides video content introducing physiological concepts and structures. It is primarily recommended to use for in-class "lecture launches.
Quick Evaluation
Visible Body apps are highly interactive and robust. While the learning curve for effectively using the apps could be challenging, once users become familiar, and perhaps with some instructor guidance, it makes for an engaging learning experience. The models provide students with a better understanding of the spatial relationships between different organs and structures in the body, as well as how structures function and interact within the body.
An example search given by the vendor for the keyword "thyroid" resulted in: 
16 names and definitions of anatomical structures with the term "thyroid" within (organized by anatomical system—in this case, the endocrine, skeletal, circulatory, and nervous systems all have thyroid-related structures). Tapping/clicking on each of these definitions launches a model of that structure within the context of surrounding anatomy. The model can be examined from all sides and the surrounding anatomical structures can be identified with a click or tap.
11 regional/systemic anatomical 3D model views, such as "Thyroid Vasculature" and "Parathyroid Glands," that can be launched and explored further.
Six quizzes, such as "Neck and Laryngeal," which include thyroidal structures.  
Annual subscription cost for each app, or the full suite, is based on the "relevant" FTE. The cost is based on the number of students enrolled full-time in Anatomy & Physiology courses annually, along with the number of students enrolled in related programs that would most likely utilize the apps.  The vendor is aware that sometimes students on community college campuses do not necessarily enroll full-time into a certain program, so they may accept an estimated FT enrollment number if needed.  That said, currently the platform does not determine a relevant student through any means, nor is an individual log-in required, meaning access to the apps does actually support campus-wide unlimited simultaneous use via IP/proxy as is typical with other library databases. Site licenses also include mobile downloads for use on phone or tablet devices.
Visible Body is owned by the company, Argosy Publishing, which has seen some popularity with campuses using their Courseware.  However, they are looking to grow their partnerships with community college libraries with subscriptions to their "apps" (databases).
This reviewer had a positive experience with the "customer service" and technological support provided during the trial period with its quick response time, strong knowledge of the product, and mission of supporting student learning through engaging & interactive technologies.
Accessibility
Visible Body does provide a detailed VPAT/WACG upon request, but upon examination it is difficult to fully determine whether or not their platforms meet all WCAG 2.1 criteria for accessibility as it seems that the different platform modules do not necessarily behave the same, accessibility-wise, and there are numerous areas where the VPAT indicates something as being "partially supported."  Therefore, this issue should be investigated in greater detail before a library makes a purchase decision.
Human Anatomy Atlas does offer a variety of accessibility and personalization options that are available from the setting menu of any screen. https://support.visiblebody.com/hc/en-us/articles/360043438694-Accessibility-and-preferences-options
Privacy
Visible Body has a privacy notice that applies to their Courseware and web-based applications. It includes information that you provide as well as information that is automatically collected. The notice also explains the ways in which the information may be shared or retained.
http://www.visiblebody.com/privacy
Conclusion
Visible Body apps provide a uniquely interactive and engaging way for students to study human anatomy structures and systems.  Pricing may be high for many libraries, but it offers tremendous potential for faculty looking to integrate 3D visualizations into course content and assignments, along with being a useful resource for librarians and tutors supporting these programs.
Relevant Links
If you have any experience with this product, please leave a comment and rate its appropriateness for use in a community college environment.
---
† The offers and trials information are password protected. Actual prices are confidential between the vendor and the consortium.
For access contact Amy Beadle, Library Consortium Director, 916.800.2175.