LibKey: an accelerated expressway to your library's journal articles
The LibKey Suite provides access to your library's journal articles through a single click across a variety of platforms.
What is it?
The LibKey Suite (consisting of BrowZine, LibKey Discovery, LibKey Link, LibKey.io and LibKey Nomad) provides seamless linking to your library's subscribed and open access journal content. BrowZine is the viewing platform used to display the journal contents in a browsable, readable format.
LibKey Discovery works with Primo (and other Discovery systems) to provide a direct link to the article PDF from the search results page. LibKey Link provides one-click linking to PDFs through a variety of research platforms. LibKey.io allows users to search for articles by DOI. LibKey Nomad is a browser plug-in that provides a download link when on a page with journal access. All five products are included in the LibKey Suite.
LibKey is available through the consortium for a yearly flat fee (no FTES tiers). Third Iron is offering the LibKey suite at a very discounted price, so if you've looked at it in the past and thought it was too expensive, it's time to take a new look.
Quick Evaluation
With the LibKey Suite, users are given one click access to PDFs regardless of the platform they are searching. Most libraries would start out by implementing LibKey Discovery with Primo VE.
LibKey Discovery provides the PDF link of journal articles directly on the search results page. Without the Download PDF option, there are many steps where a user can get lost while trying to access the full-text of a journal article. After clicking the "Available Online" link, the user has to choose a database (which isn't very intuitive), and the database link will often take the user to an article record page, where the user still needs to search for the PDF link. LibKey bypasses all of those steps to provide the PDF in one click.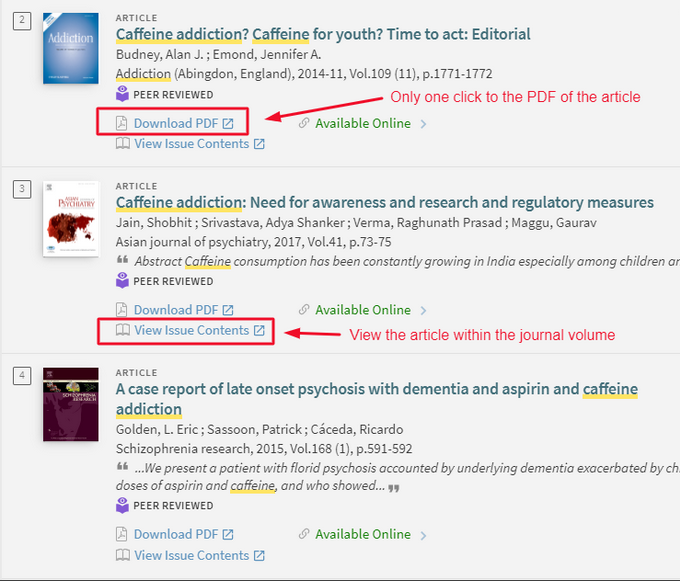 LibKey only works with academic journal articles that have a DOI (digital object identifier), so it won't work with magazine articles, newspaper articles, or ebooks. LibKey is vendor neutral, and if there are multiple options to the same article, LibKey looks at a variety of factors (indexing, backfiles, speed, reliability) when deciding which PDF to display.
Some of you may have turned on Quicklinks through Primo VE and may be wondering how Quicklinks compares with LibKey. Quicklinks utilizes your link resolver to provide direct links to some PDFs, but not nearly as many as LibKey. LibKey actually works in conjunction with Quicklinks, so if LibKey is not able to provide the direct link to the PDF, or if Quicklinks can provide it quicker (with less steps), then the Quicklinks link will be used. Even with Primo Quicklinks, LibKey provides so much additional access that is it worth subscribing.
LibKey Link can be set up in Google Scholar, PubMed, EBSCOhost and other platforms to provide the same type of one click PDF linking to journal articles.
LibKey Nomad (the browser plug-in) knows your library holdings, so if a student ends up on a vendor page and that article is within your library's holdings, a download PDF option will appear. LibKey Nomad can be installed on a variety of browsers and, with the help of your IT department, can be installed system-wide on Chrome browsers. Patrons would install the Chrome extension on their own.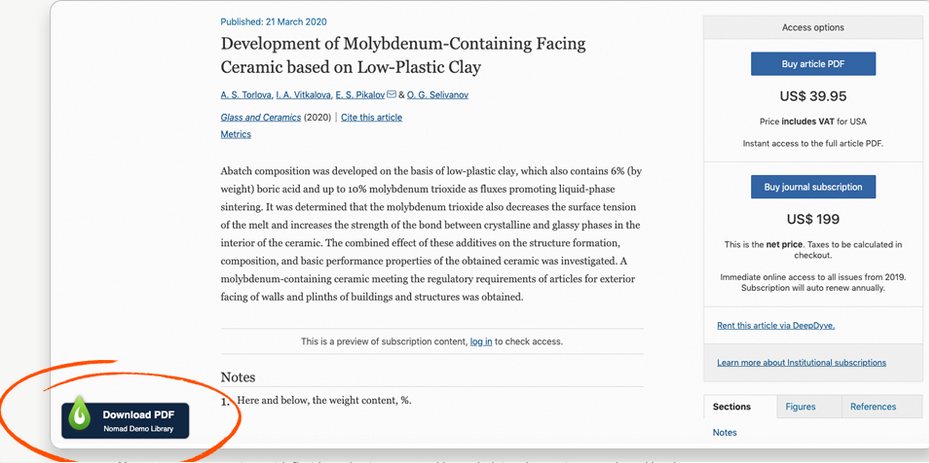 Set up for the LibKey suite is fairly simple. For the Primo integration, your system administrator will need to be involved, but the process is not complicated. Third Iron provides you with a librarian support specialist for one-on-one assistance in setting up the LibKey suite of products wherever they can be used.
The LibKey Suite is WCAG 2.1 compliant. The products all work well on a variety of devices, including mobile phones.
This reviewer wholeheartedly recommends the LibKey Suite for all California Community College Libraries. If the goal is to get the student to the content they are looking for with as few clicks as possible, then LibKey is the product to purchase.
Relevant Links
If you have any experience with this product, please leave a comment and rate its appropriateness for use in a community college environment.
---
† The offers and trials information are password protected. Actual prices are confidential between the vendor and the consortium.
For access contact Amy Beadle, Library Consortium Director, 916.800.2175.